After I just completed my first own-built quad-copter, here a few details to share about this project. Having the DJI Phantom 2 V3 for aerial photography and a ready built 250 Storm racing drone, I was looking for a FPV mini-copter to fly indoor and outdoor, using brush-less motors and a robust carbon frame. My choice was XELITES 's  XE180, a 180 frame (motor to motor distance 180 mm).
Components
As the frame is quite compact, all electronic components had to be small and mini. I use a Futaba radio, so the choice of receiver was the Futaba 6-channel micro receiver R2106GF. My Storm racing drone has the open pilot 3CCD flight controller, therefore the selection was the Atom 3CCD mini version with straight pins for my XE180. Other components:
ESCs: 4x Afro 12A
Motors: 4x DYS 1306-3100KV
Power distribution: ATAS mini PDB lite
FPV camera: Mini CMOS 520 TVL (PAL)
Video Transmitter: Skyzone TS5823 5.8 GHz 200 mW
Low battery warning: 3-In-1 Battery monitor
LED lights: Volo LED light strips 2 red, 2 blue
Batteries: 2S (indoor) and 3S (outdoor) Lipo 1.3 and 1.5 Ah, 25C
The final arrangement of all components is shown here: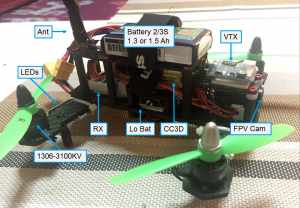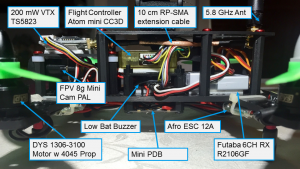 After mounting all components the net weight of the copter is 245 gram.
Flight Experience
After adjustment of the open pilot flight controller parameters, I have done several flights and am quite satisfied with the results. With a 3S 1300 LiPo I get 10 minutes of flight time and enough power for outdoor flights even in windy conditions.